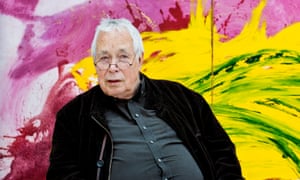 Award-win­ning British artist who achieved super­star sta­tus with his vivid abstract work
Sir Howard Hodgkin, who has died aged 84, was lit­er­al­ly a broad-brush artist, the width of whose lush, pig­ment-loaded strokes was accen­tu­at­ed in all but the lat­er paint­ings by the small­ness of the sur­face. Their impact was inten­si­fied by his habit of incor­po­rat­ing the frame, actu­al or sug­gest­ed, as part of the pic­ture.
Like Fran­cis Bacon, though, it pleased Hodgkin to refer to him­self as a fig­u­ra­tive painter; and, as with Bacon's sug­ges­tion that his own smeared ago­nies were real­ist, Hodgkin's use of the term fig­u­ra­tive seemed to most view­ers of these sump­tu­ous­ly coloured abstrac­tions noth­ing more than a tease. If so, it was a tease that they enjoyed, because his prime Hodgkin became one of the most pop­u­lar artists in Britain, with many suc­cess­ful shows abroad as well, par­tic­u­lar­ly in the US, Ger­many, and Italy, where in 1984 he rep­re­sent­ed his coun­try in an acclaimed show at the Venice Bien­nale.
A few, very few, crit­ics raised their voic­es in dis­sent against the back­ground of loud pop­u­lar and crit­i­cal acclaim. It may be that Hodgkin's finest lega­cy will turn out to have been the mur­al he cre­at­ed for the British Coun­cil build­ing in New Del­hi by the Indi­an archi­tect Charles Cor­rea. With­in an open log­gia to the front of the build­ing, behind a large cut-out key­hole shape, Hodgkin paint­ed a bold, flat mono­chrome pat­tern that might rep­re­sent a great banyan tree; the shad­owed infor­mal­i­ty of the paint­ing makes some­thing lyri­cal of Correa's man­i­fest­ly mod­ernist aus­ter­i­ty.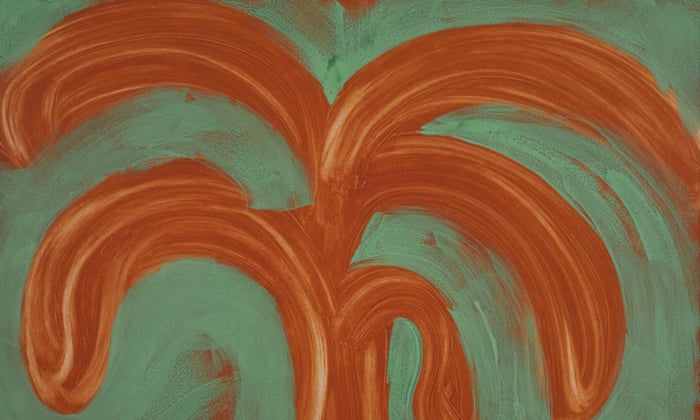 Indi­an Tree, 1990. Illus­tra­tion: © Howard Hodgkin
With his sin­gu­lar approach to paint­ing Hodgkin was cer­tain­ly out of step when he was study­ing at Cam­ber­well School of Art in Lon­don, where Euston Road impres­sion­ism was the order of the day. He claimed ever after to have remained an out­sider, despite his appoint­ment as CBE (1976), a knight­hood (1992) and being made a Com­pan­ion of Hon­our (2003), with trustee­ships, suc­ces­sive­ly, of the Tate and the Nation­al Gallery, appear­ances on TV's The South Bank Show, with Melvyn Bragg, and Are­na, with Alan Yen­tob, and sundry hon­orary fel­low­ships and doc­tor­ates.
In a sim­i­lar vein, he always said he had come from hum­ble cir­cum­stances, despite the evi­dence of his back­ground: his moth­er, Katharine, was the daugh­ter of a lord chief jus­tice, Gor­don Hewart (Vis­count Hewart); his father, Eliot Hodgkin, it is true, seems to have dis­liked his day job with ICI, but he was a keen plant col­lec­tor and picked up a Vic­to­ria gold medal from the Roy­al Hor­ti­cul­tur­al Soci­ety. The extend­ed Hodgkin fam­i­ly includ­ed Thomas Hodgkin, the physi­cian after whom the lymph node can­cers Hodgkin and non-Hodgkin were named and the artist and crit­ic Roger Fry. The con­duc­tor John Eliot Gar­diner was a cousin.
Hodgkin's inci­den­tal con­nec­tion to the Blooms­bury set, rein­forced by his own studio's Blooms­bury address, would lat­er bring him grief at the hands of some crit­ics, who want­ed to see in his paint­ings an equiv­a­lent to the domes­tic designs pro­duced for Fry's Omega Work­shops.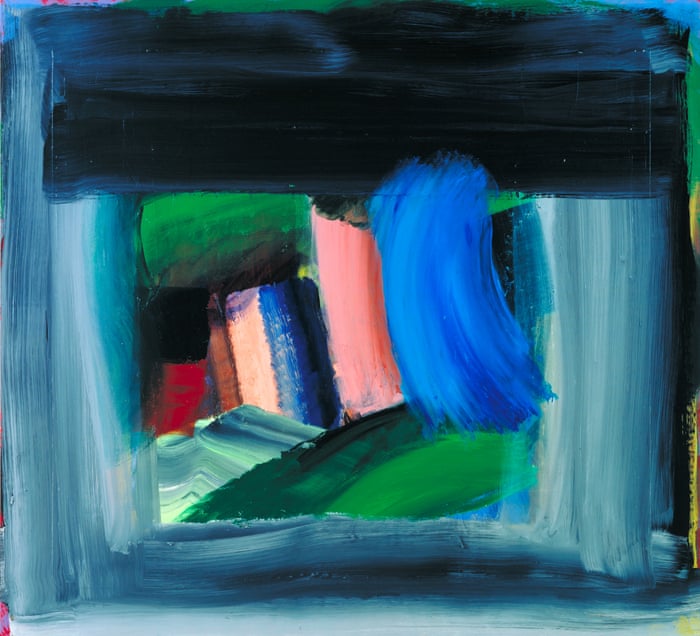 Rain 1984–1989. Illus­tra­tion: © Howard Hodgkin
If the spoon in Hodgkin's mouth at birth was mere­ly sil­ver-plat­ed, it was nev­er­the­less a priv­i­leged child­hood. In 1940 his moth­er took Howard and his sis­ter, Ann, away from the threat­ened bomb­ing of Lon­don, their birth­place, to the US and a life on Long Island in the house, he lat­er said, where Scott Fitzger­ald set The Great Gats­by. He had already, at the age of five, decid­ed that he would be an artist. When he was tak­en to New York to vis­it the Muse­um of Mod­ern Art and saw Matisse's paint­ing Piano Les­son, his deci­sion became irrev­o­ca­ble, despite his mother's appar­ent­ly irra­tional desire for him to become a diplo­mat. "I would have start­ed a war," he said, and he was indeed quick to anger.
When he returned to Britain he was sent to Eton, where the draw­ing mas­ter was Wil­frid Blunt. He intro­duced his pupil to Indi­an art and, start­ing young, Hodgkin amassed a famous col­lec­tion of Mughal-derived Pahari paint­ing from the Himalayas. The inter­est extend­ed to India itself, which he vis­it­ed reg­u­lar­ly over the years. His edu­ca­tion prop­er began in 1949 at Cam­ber­well, fol­lowed by the Bath Acad­e­my of Art at Cor­sham (1950–54), where his teach­ers includ­ed William Scott, and where he too lat­er taught for a while. In 1955 he mar­ried a fel­low Cor­sham stu­dent, Julia Lane.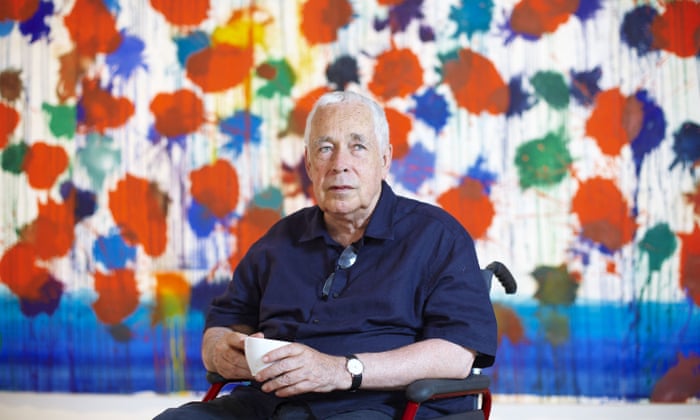 Howard Hodgkin unveils As Time Goes By at the Cristea Gallery, Lon­don, in 2009. Pho­to­graph: Theiner/City AM/Rex/Shutterstock
Hodgkin's ear­ly spiky style of fig­ures in inte­ri­ors is still regard­ed by a few quirky admir­ers as his best work. Pos­si­bly the ear­li­est of these is Mem­oirs, paint­ed in 1949 when he was only 16. It shows, awk­ward­ly and unap­peal­ing­ly, the young Hodgkin, with an old head on his shoul­ders, in a chair and lis­ten­ing to his host­ess, who reclines on a sofa in the Gats­by house, con­fess­ing her (appar­ent­ly fic­ti­tious) life of sex­u­al affairs. Hodgkin said that the expe­ri­ence of paint­ing it was when he realised that his sub­ject would always be mem­o­ry.
Despite appear­ances, he was for many years a slow work­er, con­stant­ly refor­mu­lat­ing and repaint­ing and pro­duc­ing no more than nine or 10 pic­tures a year. He was 30 before he had his first solo show. When he did, it was with Arthur Tooth, at that time just about the most dis­tin­guished com­mer­cial gallery in Lon­don. By 1976, when Nicholas Sero­ta, then direc­tor of the Muse­um of Mod­ern Art in Oxford, gave him his first muse­um show, Hodgkin had made his break­through to the mature style for which he became known. While he ini­tial­ly scorned the tra­di­tion of easel paint­ing, Hodgkin came round to the view that his own works were arte­facts, objects of con­tem­pla­tion. Hav­ing start­ed by paint­ing the frames, he dis­card­ed can­vas and used wood as the painting's sur­face – old table tops, bread­boards, and in one case, The Moon (1978–80), the wood­en back of an old clock. This, para­dox­i­cal­ly, was one of his more snail-like pro­duc­tions, but one of the best.
Hodgkin's friend, the writer Bruce Chatwin, relat­ed the bur­geon­ing of Hodgkin's mature style at this peri­od to the occa­sion when, hav­ing had a homo­erot­ic expe­ri­ence, he felt emo­tion­al­ly lib­er­at­ed. In 1978 Hodgkin sep­a­rat­ed from Lane, leav­ing her with two sons, Louis and Sam, (this sev­er­ance from her seems to have shad­owed with sor­row the rest of his life) and in 1983 he set­tled into a life­time part­ner­ship with the music crit­ic Antony Peat­tie. Yet Hodgkin him­self denied a direct con­nec­tion between com­ing out as a gay man and the devel­op­ment of his paint­ing. Nonethe­less, many of his works became clear­ly erot­ic and some, like None But the Brave Deserves the Fair, and Wak­ing Up in Naples, refer to sex­u­al encoun­ters.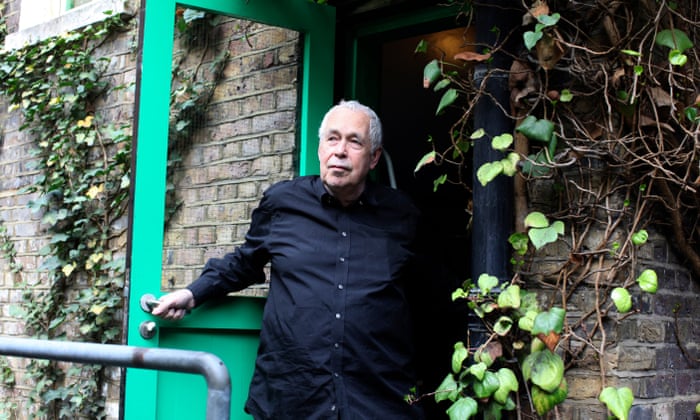 Howard Hodgkin at his stu­dio in Blooms­bury. Pho­to­graph: Eamonn McCabe for the Guardian
The struc­tur­al under­pin­ning lay in Hodgkin's rev­er­ence for the work of Edouard Vuil­lard, the French intimiste painter who, like Pierre Bon­nard, set paint­ings in domes­tic inte­ri­ors. Hodgkin acknowl­edged that the bands and blotch­es of colour in his paint­ings could be tak­en as enlarge­ments of Vuillard's touch, but the influ­ence stretched to the clos­et­ed inten­si­ty of the sur­faces of Vuillard's paint­ing, accen­tu­at­ed in Hodgkin by the sense of depth impart­ed by his inte­gral fram­ing.
By 1984 Hodgkin had accu­mu­lat­ed enough work to fill the British Pavil­ion at the Venice Bien­nale. That year, too, he was the favourite to win the first Turn­er prize, but instead it went to the US-based British painter Mal­colm Mor­ley; Hodgkin won the fol­low­ing year.
For some­one in whom so many influ­ences have been detect­ed, from Turn­er to Seu­rat, Vuil­lard to Matisse, and, in their great splash­es and swaths of colour, Ivon Hitchens and Peter Lany­on, Hodgkin's paint­ings are instant­ly recog­nis­able as his alone. The titles are usu­al­ly mean­ing­less to any­body but the artist, though some, such as Bom­bay Sun­set (1972–73), are obvi­ous. Many refer to meet­ings with friends, and occa­sion­al­ly have dis­con­cert­ing fig­u­ra­tive ele­ments, such as the sketched bespec­ta­cled head dim­ly dis­cerned in the paint­ing DH in Hol­ly­wood, 1979–85. DH being his old friend David Hock­ney.
To Hodgkin, the title was always the clue to the pic­ture: each refers to the expe­ri­ence that trig­gered the paint­ing. "Most­ly paint­ing is like putting a mes­sage into a bot­tle and fling­ing it into the sea," he told the Observ­er in 2001, but his paint­ings do very much recall the expe­ri­ence of liv­ing a well-to-do life of trav­el and din­ing out at friends' hous­es or in plush restau­rants – trop­i­cal skies, palm trees, lav­ish sun­sets – in exot­ic loca­tions such as Bom­bay, Ker­ala, Venice, Moroc­co and New York.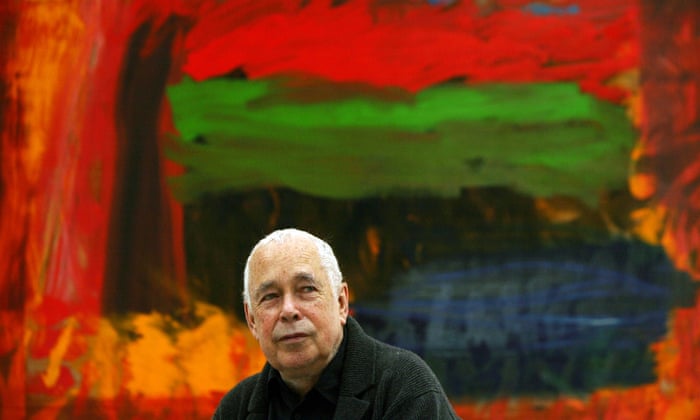 Howard Hodgkin in front of Home, Home on the Range at the open­ing of his exhi­bi­tion at the Gagosian Gallery in Lon­don in 2008. Pho­to­graph: The Independent/Rex/Shutterstock
Like so many painters, Hodgkin felt lib­er­at­ed by the 1959 Tate show The New Amer­i­can Paint­ing and by the impact of the scale and con­fi­dence of the abstract expres­sion­ists Bar­nett New­man and Jack­son Pol­lock, though until the 1990s he con­tin­ued to paint with­in a pre-abstract expres­sion­ist inti­ma­cy of for­mat, and gained pow­er from that con­tain­ment. He added a rid­er: hang too many paint­ings togeth­er and they tend to kill each oth­er. That cer­tain­ly seemed a major les­son both of the big Hodgkin ret­ro­spec­tive at the Hay­ward Gallery in 1997 and the Tate Britain show in 2006.
As Susan Son­tag observed in the cat­a­logue of anoth­er big show in Fort Worth, Texas: "Each pic­ture is, ide­al­ly, a max­i­mum seduc­tion … the view­er may be tempt­ed to solve the prob­lem, aban­don­ing the prop­er dis­tance at which all the picture's charms may be appre­ci­at­ed to zero in for immer­sion in sheer colour bliss – what Hodgkin's pic­tures can always be count­ed on to pro­vide."
Not quite always: there are bad paint­ings, ruined by a jar­ring note, an unas­sim­i­lat­ed white, say, or large dabbed and stabbed dots which go nowhere and do noth­ing but pile up into a con­sti­pat­ed occlu­sion. Lat­er in life he rid him­self of his con­stant itch to paint and repaint and pro­duced much freer and often big­ger paint­ings that real­ly were a sight for sore eyes. Hodgkin was not only a sur­vivor, but a devel­op­er. In 1962 the ICA set up a show of the work of Allen Jones and Hodgkin. Jones looked much the bet­ter: bet­ter colourist, wit­ti­er, more suc­cinct. Yet, suc­cess­ful as Jones became, he nev­er achieved Hodgkin's super­star sta­tus.
He was for­tu­nate in his fan club, which includ­ed not only crit­ics such as Robert Hugh­es, who acclaimed him in his Time mag­a­zine review of the Venice Bien­nale, but also, in a book called Writ­ers on Howard Hodgkin (2006), a clutch of authors includ­ing Julian Barnes, William Boyd, James Fen­ton, Alan Hollinghurst and Colm Tóibín, whose prose was, as the Finan­cial Times not­ed in what may not have been intend­ed as a dou­ble-edged remark, as lush as Hodgkin's paint­ings. At the time of his death the Gagosian was show­ing his work in Hong Kong, and a major show of his por­traits opens at the Nation­al Por­trait Gallery in Lon­don on 23 March.
He is sur­vived by Antony and his chil­dren.
• Gor­don Howard Eliot Hodgkin, artist, born 6 August 1932; died 9 March 2017
https://www.theguardian.com/artanddesign/2017/mar/09/sir-howard-hodgkin-obituary
Frollini1